About Matthew Sabatella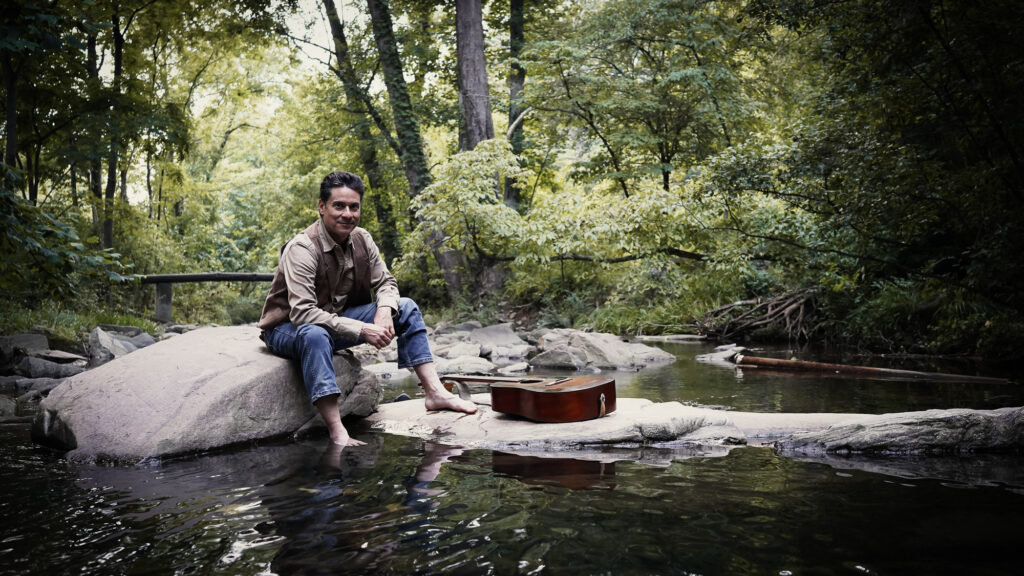 Matthew Sabatella connects people with music that is woven into the fabric of the United States. As a singer, instrumentalist, recording artist, performer, speaker, and writer, he illuminates the connection between music and the story and people of the United States. He performs regularly, both as a solo artist and as the leader of the Rambling String Band. He teaches about America's music, in person and online, at Lifelong Learning Institutes, including Florida Atlantic University, George Mason University, Florida International University, University of Miami, and Nova Southeastern University.
In 2019, Matthew founded Ballad of America, Inc., a 501(c)(3) nonprofit organization with a mission to preserve and celebrate music from America's diverse cultural history. In 2023, he and Ballad of America, Inc. were honored with a citation from the National Federation of Music Clubs, the largest nonprofit in America promoting and supporting American music, performers, and education. Serving as Vice President of the Southeast regional chapter of Folk Alliance International (SERFA) and leading the Roots & Sources committee, he ensures that traditional folk music retains a prominent place at the annual conference and within the organization.
Matthew earned first-place ribbons in the 2019 Florida Folk Festival's Old-Time Banjo Competition and the 2023 Florida Old-Time Music Championship's Old-Time Banjo and Singing competitions. He holds a Bachelor of Arts in Music from the University of Miami, a Master of Arts in History from Florida International University, and has studied singing, banjo, and guitar with such masters as Alice Gerrard, Sheila Kay Adams, Paul Brown, Richie Stearns, John Hermann, Kirk Sutphin, Mac Benford, and Walt Koken.
Matthew Sabatella and the Rambling String Band have released three albums in the Ballad of America series, each with a different historical theme. Their flagship live program is the 90-minute multimedia stage show A Celebration of America's Music: From Plymouth Rock to Rock & Roll. Matthew sees the possibilities for future recordings, releases, and performances as nearly endless. He looks forward to a long career dedicated to performing, teaching, and carrying on the traditions of the music that he loves.
---
Matthew's Story
By 2001, Sabatella had released two critically-acclaimed albums as a singer/songwriter and provided musical support for a variety of rock/pop artists as a bass player and singer. Around this time, a folk music revival occurred within him, prompted by the acquisition of a six-CD collection called Anthology of American Folk Music. Sabatella had always leaned toward acoustic music but had relatively little knowledge of American music made prior to the 1950s. He certainly had not been an avid student of history, having barely survived his high school classes on the subject.
"Starting with the Anthology," Sabatella recalls, "the history of the United States came alive for me as I began to understand people from the past through their music: early colonial settlers through the ancient ballads, religious songs, and dance tunes they carried to the New World; people in slavery through the spirituals and work songs born out of their suffering. Blues music, Appalachian folk songs, songs of frontiersmen, factory workers, sailors, cowboys, soldiers, railroad workers, activists, and others are all ingredients in the great cultural stew that is the United States of America."
Since that epiphany, Sabatella has been singular in his mission to share this rich musical heritage with others, both for the sheer love of the music and for its value in inspiring people to better understand each other and America's past, present, and future.
---
Social Media
Matthew Sabatella
Ballad of America
Rambling String Band
---
Newsletter
---
Contact
ms@matthewsabatella.com
PO Box 220743
Hollywood, FL 33022
305.753.1850